Japanese yama-girl style makes you stylish in the mountains 山ガール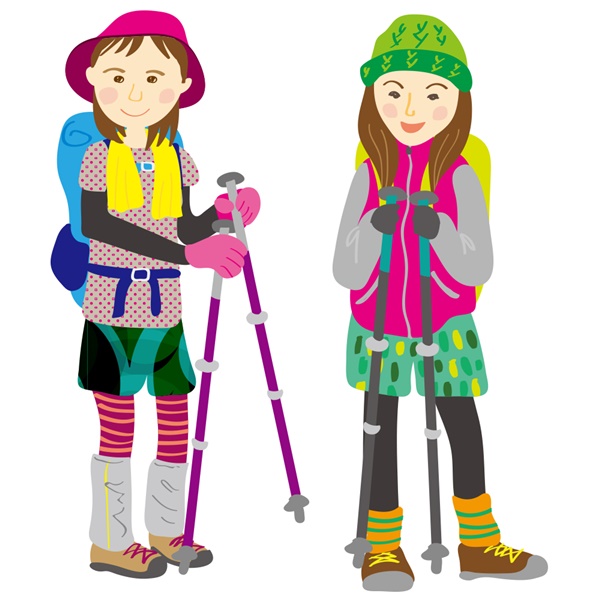 Do you think your outdoor wear is fashionable enough?
You may say,
"Outdoor clothing is for activities outside, so it's enough to function properly."
Yes, you are right.
The purpose of wearing outdoor clothing is to make activities easier.
It suffices if they fulfill functions such as mobility, warmth, ventilation, or safety.
These days, many apparel manufacturers use the latest technology to produce much outdoor wear. Not only those items are functional, but also have a very stylish design. Therefore, it is not so difficult to coexist the functionality and fashion required to work.
Girls walking in the mountains of Japan enjoy the fashionable design of outdoor clothing. They are colorful and fashionable climbers as if they looked like fashion models.
Such girls are recently called "yama girl".
What is "Yama girl"?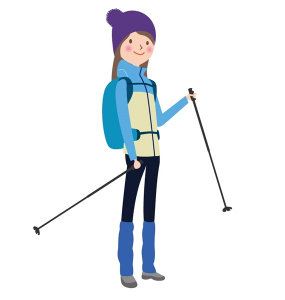 "Yama(山)" in Japanese means "mountain".
So "yama girl(山ガール)" can be translated as "mountain girl".
Yama Girl Fashion appeared around 2009.
Recently, Japan enjoys the mountain climbing boom.
There are many mountains in Japan. In particular, Mt. Fuji has become a more popular mountain thanks to the recent spiritual boom and being listed as a World Heritage Site in 2013.
Some believe that the highest mountain in Japan is one of the power spots.
Speaking of climbers, there were overwhelmingly many men, but not only women have begun to go into the mountains, but they also wear colorful and stylish outdoor brands, and furthermore, they wear winter protection items called "yama skirt".
Such a phenomenon became a topic.
Those items include colorful waterproof jackets, vivid colored hiking skirts (yama skirt), stylish hiking boots, support tights (or spats), shorts, and vests.
There are also many small items such as mountain climbing hats and bags. Chunky trekking shoes are popular because they give the effect of making yama girl's feet look slimmer leading to showing their style better.
Background where the mountain girl was born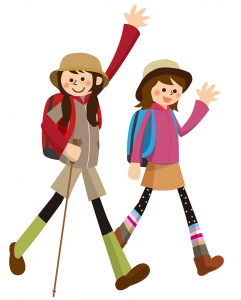 Why was "yama girl" born?
Behind this, besides the climbing boom mentioned earlier, is the recent trend in apparel, which requires products that are more casual, sporty and have full-fledged functions.
Some authentic outdoor brands already sold designs that can be used in town at relatively reasonable prices, while having high functionality.
Such famous brands include THE NORTH FACE, HELLY HANSEN, mont-bell, and Karrimor.
Yama girl fashion often uses fancy colors to prevent accidents in the mountains so that if something occurs in the mountains, it will not blend into the surrounding scenery. Strong colors such as bright pinks, yellows, greens and the like are used, which are rather flashy to wear in the city.
It is natural that yama girl fashion is popular among women because that they can not only enjoy such extraordinary colored outdoor fashion, but also enjoy the exhilarating scenery and the air in mountains by climbing as a sport.
Basically, most mountain girls are healthy, natural-oriented women who are primarily interested in trekking and other mountain walks.
Their hairstyles, makeup, and personality often have similar styles, and it is now considered that "yama girl" is one of the female characters that men find attractive.
It may be close to the illusion that every woman wearing ski wear at a ski resort looks beautiful.
However, on the whole, it seems that many people who climb in yama girl fashion have good fashion sense.
Yama girl in 2019
Ten years have passed since the appearance of Yama Girl, and it is natural that the number of people who are conscious of yama girl fashion has decreased. There are reasons: these colorful items have been used a lot which is not uncommon anymore, and the girls who were during the boom are now in their late 30s to 40s that their preference for color choices has changed.
However, yama girl fashion is popular as everyday wear because it is unpretentious, functional, has excellent cold protection, and has many cute designs. Brands such as UNIQLO are popular.
The reason is that it is better to wear in the yama girl-style than to choose an ordinary "casual style" or a "sporty style" is because many people feel that it looks better, or it might be kind of a trend.
Now that that fashion is easy to move around and gives an active impression to others, even living in a city, it has been established as "yama girl fashion that doesn't go to mountains".
---